Folks in the South can get heated about their BBQ styles. Everyone seems to have THE sauce. In fact, the great state of NC is divided right down the middle with Vinegar vs. Tomato. I am an anomaly ... though I would choose
Wilburs
over the next guy 9 out of 10 times, I also have a place in my heart for SC style.
The BF hosted a nice little BBQ sauce tasting gathering last night as "research" for his BBQ team. He created 12 different concoctions and we ranked them from 1 (eww) to 10 (fabulous)! The 5 "bases" for the sauces were inspired from these regions:
1. Eastern North Carolina (Vinegar Based)
2. Western North Carolina or "Lexington" BBQ (Tomato-Based)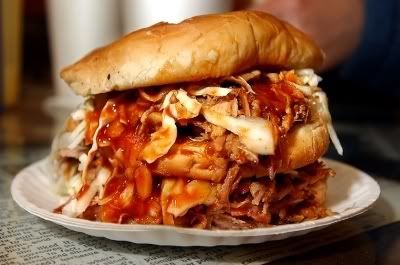 3. South Carolina (Mustard Based)
4. Alabama White Sauce (Mayo Based)
5. Texas Brisket Style
What is your favorite?
(Photos from: lubbockonline.com, whitetrashbbq, pecans.com, saucehog.com, howstuffworks.com)