I've never been one to be dazzled by Hollywood's "it" stars. To me, they are just normal people like you and me.
(Normal people, that is, that make outrageous salaries and have a small army of style-makers who give them their daily sparkle.)


Every once in a while someone in the spotlight will strike me not merely from the movies they star in, but also for their other interests. Gwyneth is one of these people. Her inner beauty radiates. She focuses first on her family and puts her career second. She is effortlessly stylish, even in a Barbour & Wellies while pushing a pram down a London street. She celebrates great food and wine, and doesn't shy away from showing it.
After watching a recent Oprah episode featuring Gwyn + Mario's recent
food fueled roadtrip
through Spain, I was inspired to create a Spanish supper. What was on our menu? Paella & Sangria of course!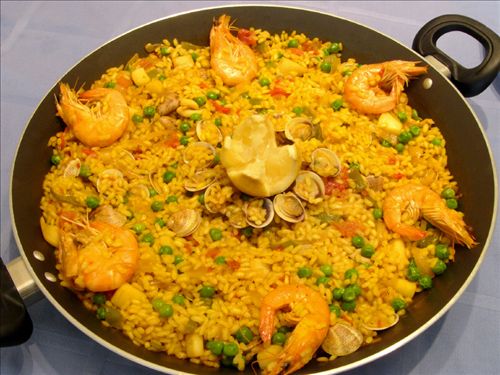 While most fine chef's would be appalled by my creation, the badger and I found it to be quite tasty on the cheap! After discovering that a teeny
tiny
packet of saffron threads was $18, I opted for a packet saffron infused rice ($2). The beauty of paella is its relaxed "whatever goes" attitude. Ours featured shrimp, chicken, peas, yellow & red bell peppers, and onion.
Paired with a glass of Sangria (we had the "cube" variety from Target, don't scoff, it was tasty, especially if you toss in a few fruit slices) our dinner was truly a Spanish success!