5 things that are highly non-preppy but have brought me heaps of laughter over the years:
1. The Subaru Brat. The tagline attached to this little beauty was "party on wheels." My college roommates and I thought that these were the most hysterical vehicles ever produced. For starters "BRAT" is printed on the side of the car. Whats not to love? (Car version of #3, "business up front, party in the back.")
2. Jorts. No description needed. Usually best paired with #3. (Perhaps the only people who can pull them off is Miss Grit's country!)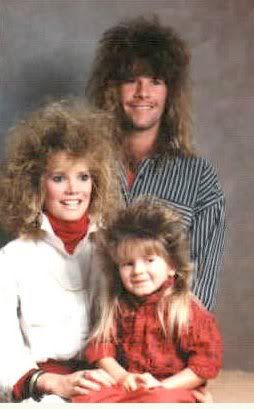 3. Mullets. This particular family illustrates 3 great mullets: the mini-mullet, the fem-mullet, and the mack-daddy mullet. Their mulletude and level of aggressiveness is low. Fear the mullet, well except for Uncle Jessie's. Have Mercy.
Due to my fits of giggles I cannot finish 4 and 5. Please feel free to add your own!